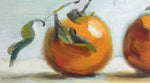 Clementines with Leaves (detail) 11" x 14" oil on linen
I recently presented a solo exhibition, "Beauty for Ashes", October 12th to 18th, 2021, at Galerie Erga in Montreal.  It was wonderful, and I'll write more about it soon.  But what I want to write now pertains to how I followed up, or I should say, refreshed, after the exhibition.  It's wonderful to have something very special to look forward to after I've completed a demanding project.  So while still at the gallery I booked an online workshop with a group of my, especially, favourite, artists, The Artists Guild.
The image I've used here, these animated and juicy clementines with scrolling leaves, reflects the opportunity I embraced to paint after a previous and lovely workshop I attended in March of 2018, in person, with the same group of masters.
The online workshop, October 28th to 31st, 2021, was with the Artist's Guild Fine Art masters, David A. Leffel, Sherrie McGraw and Jacqueline and Stacy Kamin.  Preoccupied with my next artistic steps I wanted to conclude my year with this delightful opportunity.
I re-edited this "Clementines with Leaves" video as it's contents demonstrate several of the techniques I learned with the Artist's Guild Fine Art in Santa Fe, 2018. The return to this exploration in the development of my work will be part 2 of the "Beauty for Ashes" concept.  News about the exhibition will be posted on this blog.
A series of videos emerged as I painted "Clementines with Leaves" (aka Clementine Trio) in my home studio back in 2018.  The video links will be posted below.  The trailer, about 1 minute, is followed by a 6 minute video featuring the main moves.
Now, God willing, I'll have the pleasure to focus, 2022, exploring the techniques I learned nearly 4 years ago and just refreshed in my 4 day online workshop.
I confess,  ... it's taken me a month to regain energy.  Focused on concept, palette and format I planned then painted for the peony exhibition over 24 months.  I did a lot of thinking.  Clear headed and relaxed I'm pleased with the results of my project.  It was a lovely experience; meeting new collectors and catching up with friends made it especially meaningful.  
Here's the trailer "Clementines" 2018
Here's the demo:  This video features the setup, sketch, palette and painting of the "Clementines" oil painting which I created in 2018 after returning home from an art workshop with the Artist's Guild Fine Art in Santa Fe.   
I hope you enjoy this video; and I look forward to seeing you at my next exhibition.
With warm regards,
Roxanne
Notes:
The original oil painting Clementines with Leaves (aka Clementine Trio) 11" x 14" oil on linen is not for sale, prints are available, visit: PIXELS, Fine Art America
The videos are published on VIMEO.
Licensed track:  After the Silence, Vicki Hansen, StockMusic.net
I painted this artwork over a week.  The sound was very inconsistent for the most part in the video clips, so I removed it and put in the above music track.  There is also much more, but I edited the demo to the best bits.  The finishing was however not videotaped, for example, the edges around the clementines. Hopefully in my next works I'll have the time to capture such important detail.  Videotaping while I paint is very difficult, very distracting, disruptive to the momentum when creating a piece of art...  I'm trying to sort out a way to do it in a less intrusive manner as I create.  Any suggestions?
Visit The Artist Guild:  https://brightlightfineart.com