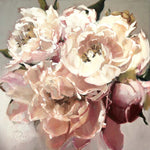 Gallery at Victoria Hall has 

offered me a shared exhibition with Westmount artist Tracey Steer.  The proposed dates for this show are:

Exhibition: February 18 to March 17th, 2023

Vernissage: February 17th, from 6 pm to 8 pm.

 

To say I'm delighted is an understatement!
Previous to the 2023 exhibition...
In October 2021, I presented a solo exhibition of painted peonies titled "Beauty for Ashes" at Galerie Erga, Montreal. The concept addressed the notion of "emotional healing" and the colour "pink" provided a visual thread throughout.  It took 2 years.... the challenges during 2020 to 21 provided the tension necessary to crystallize my idea as I painted these works.  You can read more about the 2021 exhibition by clicking this link.
About the application...
A selection of works from the 2021 exhibition were submitted in my application on April 11th, 2022.  These paintings will provide the basis for my part of the Duo Exhibition in 2023 at Gallery at Victoria Hall.  New artwork will extend the collection and foster an evolution of the concept. I'll present details as they materialize.  It's thrilling to get back to this project and have the opportunity so soon.   
Along with the required number of artwork jpegs, a brief bio was submitted for consideration in the 2022-2023 season lineup of art exhibitions at the Gallery at Victoria Hall.  There are many talented artists living in our community and to be offered an exhibition in this gallery, is an honour for me.  Previously, I've had solo, duo and group exhibitions in this venue.  
The conservatory...
The gallery is lovely and connects to Westmount's newly restored conservatory.  Originally built in 1927, this heritage structure is a great joy.  Many times over the years I visited the conservatory and later painted the tulips and the azaleas that were so cared for and creatively arranged within.  I found much inspiration in this beautiful environment.  Click this link for more information on the conservatory restoration project.
More news coming soon...